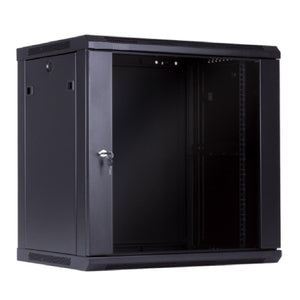 12U Data Cabinet Wall-mounted

2 Exhaust Slot

Removable Side Panel

Glass Front Panel with Key

Removable Top and Bottom Slot for Cable Management

SIZE: 600MM*450MM*600MM 2feet

Lockable Steel-Framed Door supplied with Two Keys. Upper and Lower Cable Entry Points with removable covers.

Removable side doors, for easy access

Supplied with four sturdy wall-mounting bolts.

A cut-out section designed specifically for a fan.