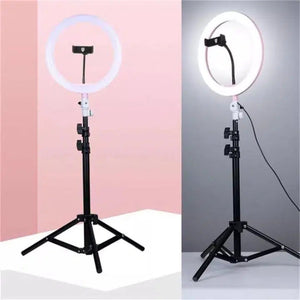 36CM lamp set with 2.1M bracket

Ring Light 14"/36cm Dimmable LED Ringlight With Tripod Stand CPHolder For Makeup Photography Selfie

18 ways to adjust the light, warm white light freely adjustable

With a phone clip, you are both hands

Special LED SMD design, lightweight and portable. Constant current drive, low power loss.

NO ultraviolet and infrared light radiation, low heat output, safety and environmental

It is widely applied to outdoor photo light, filling light indoors, portrait, fashion, wedding art, advertisement photography, shooting video, etc.

With reinforced flexible arm which will move freely and never droop.

There will be bright rings reflect on you eyes like you are wearing charming cosmetic contact lenses.