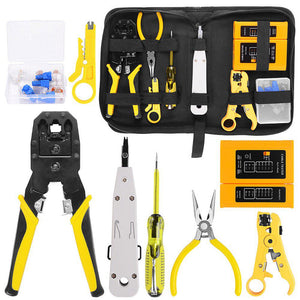 This professional and multifunctional tool kit, applicable for network wires ,telephone wires and other electric wires,can help you finish different cable marking processes without effort.Not only can the wire tracker test physical connection status of network cable,such as open circuit,short circuit,positive or negative pole,but also it can help you find the target line quickly among plenty of wires.

Ethernet crimper kit,perfect for RJ11 and RJ45 plugs connectors,is available to crimp,strip,cut,twist,test,trace CAT5,CAT6,CAT5E,CAT6A,Shielded (STP) and Unshielded (UTP) Cables.Professional design and great function,ideal for wire engineering of telecom network,regular maintenance work,network line engineering of computer and other wire engineering or maintenance.

In a noisy environment,you can use the earphones to accurately find the target cable by comparing the strength of "beep beep" sound from the device and prevent interference from the outside.Also,spotlight function enables you to trace the target line at night or in the dark environment.