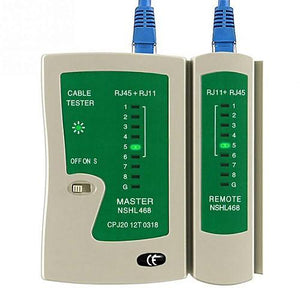 Network Lan Tester
Can test rj45, rj11, rj12
Can test Cat5, Cat5e, Cat6, Cat6e, Cat7 Cables
100% Brand new and High Quality
Free Black Pouch
Easy to Use
Keep your network running smoothly by testing your cables to uncover problematic shorts, open wires, crossing pairs and other wiring mishaps
Use for testing your homemade Ethernet patch cables to make sure they are in working order prior to connecting to your devices
Tests RJ45 cables,RJ12, RJ11 telephone cables and network cables
Easy to read LED display indicates problems
Hand-held for portability
Detachable master/ remote unit for versatility
Connect cable to both master unit and remote to test cable for problems
Requires one 9V battery (not included)
Network Cable Tester is a device designed to measure and test existing LAN connection. LAN Testers are a must-have piece of equipment for every network installer. Whatever it is an existing cable connection troubleshooting or installation brand new cable connections, cable tester checks the signal quality and point at exact cables or cores that need an attention.
LAN testers cover the fields of installation and network control. These LAN tester can be used in the workplace and are ideal for technical service professionals and network administrators. These LAN testers can determin. e IP addresses, identify polarity, connected port and link connectivity.