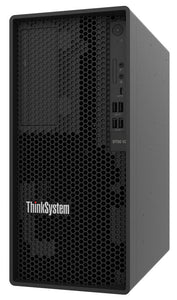 | | | |
| --- | --- | --- |
| Part number | Product Description | Qty |
| | | |
| | | |
| 7Y48A02PSG | Server : ThinkSystem ST50, 1xIntel Xeon E-2224G 4C 3.5GHz 71W, 1x8GB 1Rx8, SW RD | 1 |
|   | You will have to manually add: |   |
| 4ZC7A08696 | ThinkSystem 8GB TruDDR4 2666MHz (1Rx8, 1.2V) UDIMM | 1 |
| 4XB7A13554 | Lenovo ST50 3.5" 1TB 7.2K Non-HS SATA HDD | 2 |
| 4XB7A80533 | ThinkSystem ST50 3.5" 4TB 7.2K SATA 6Gb Non-Hot Swap 512n HDD v2 | 2 |
| 4M17A12096 | ThinkSystem ST50 5.25" to 3.5" HDD Kit w/ Slim ODD | 1 |
| 4XA7A08377 | Lenovo, 9.5mm Ultra-Slim USB DVD-RW | 1 |
| 7S05005PWW | Windows Server 2022 Standard ROK (16 core) - MultiLang | 1 |
| 7S05007VWW | Windows Server 2022 CAL (5 Device) | 1 |
| | 3 Years Parts, Labour, On Site, 4Hr Response Time, 24x7 | |
Key features
The ThinkSystem ST50 V2 server is an office-friendly tower server that has been optimized to provide enterprise-class features to small businesses, retail, educational institutions and branch offices.
Scalability and performance
The ST50 V2 offers numerous features to boost performance, improve scalability, and reduce costs:
Improved single-socket processor performance:

Intel Xeon E-2300 Series processors ("Rocket Lake-E") up to to 8 cores and core speeds up to 3.7 GHz
Intel Pentium G6405, G6505 and G6605 processors ("Comet Lake Refresh") with 2 cores and core speeds up to 4.3 GHz

Up to four 3200 MHz DDR4 ECC UDIMMs provide speed and capacity of up to 128 GB
Three PCIe slots for I/O expansion, one of which has the new PCIe Gen4 interface to maximize I/O performance.
Support for a NVMe M.2 drive for OS boot operations
Up to three non-hot-swap (NHS) drive bays, two 3.5-inch and one 2.5-inch, supporting hard disk drives (HDDs) or solid-state drives (SSDs) provide flexible internal storage capacity.
The use of SSDs instead of, or along with, traditional spinning drives (HDDs) can significantly improve I/O performance.
Availability and serviceability
The ST50 V2 provides many features to simplify serviceability and increase system uptime:
Designed to run 24 hours a day, 7 days a week
The server supports UDIMM memory with ECC protection which provides error correction not available in PC-class "servers" that use parity memory. Avoiding system crashes (and data loss) due to soft memory errors means greater system uptime.
Tool-less cover removal provides easy access to upgrades and serviceable parts, such as memory and adapter cards.
A choice of affordable onboard SATA RAID or advanced hardware RAID redundancy offers data protection and greater system uptime.
The use of SSDs can provide better reliability than the use of traditional HDDs, for greater uptime.
Built-in Active Management Technology based on Intel Active Management Technology (AMT) 15.0 which continuously monitors system parameters, sends alerts, and enables administrators to perform remote recovery actions to minimize downtime.
The Lenovo XClarity Provisioning Manager Lite tool can be used to install an operating system on the server and perform system diagnostics.
One-year or three-year customer-replaceable unit (CRU) and onsite limited warranty with next business day response. Optional service upgrades are available.
Manageability and security
Powerful systems management features simplify local and remote management of the ST50 V2:
Intel Active Management Technology (AMT) 15.0 monitors server availability and enables administrators to perform remote management.
An integrated industry-standard Unified Extensible Firmware Interface (UEFI) enables improved setup, configuration, and updates, and simplifies error handling.
An integrated hardware Trusted Platform Module (TPM) supporting TPM 2.0 enables advanced cryptographic functionality, such as digital signatures and remote attestation.
Administrator and power-on passwords help protect from unauthorized access to the server.
A padlock loop at the rear of the server plus an optional intrusion switch on the cover of the server help detect and prevent unauthorized physical access to the internal components of the server.
A slot for a Kensington-style cable lock helps prevent theft.
Energy efficiency
The ST50 V2 offers the following energy saving features to save energy, reduce operational costs, increase energy availability, and contribute to a green environment:
80 PLUS Platinum-certified power supply (select models) enables greater energy savings while providing flexibility to meet your business needs.
Intelligent Cooling Engine (ICE) actively monitors component temperatures in real-time and optimally adjusts the speeds of the fans to keep the system cooler and quieter.
The ThinkSystem Capacity Planner tool provides information about the power consumption and electric current calculation for the different configurations of servers and other devices, which helps plan deployment of servers and devices in an efficient way.
Intel Intelligent Power Capability powers individual processor elements on and off as needed, to reduce power draw.