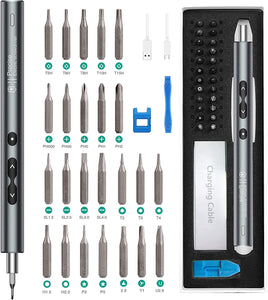 【Upgraded 28 in 1 Screwdriver Set】 This upgraded electric screwdriver set includes 24 precision specialty bits,electric screwdriver handle,plastic prying tool,magnetizer,USB charging line, protable packing box, Which can help you work efficiently and intelligently.

【24 Precision Screwdriver Bits】With 24 S2 material conventional bits as the following types: PH000、 PH00、PH0、PH1、PH2; SL1.5、SL2.0、SL3.0、SL4.0; T2、T3、T4、T5H、T6H、T8H、T10H、T15H; H1.5、H2.0; P2、 P5; U2.6; Y1; △2.3, which are designed for smart phones, cameras, remote control drones, laptops, small household appliances and other tools.

【Electric Handle Design & Automatic Modes】The electric screwdriver kit comes with an electric handle, which can make your work efficiently and quickly, saving you time. The output torque: 0.25-0.35 N.M, low running sound. Can be applied to mobile phones/glasses frames/laptops, but not large appliances.

【Type-C USB Charging & LED Light】It builts-in a rechargeable battery, 300 screws can be punched after charging fully charged; In addition,there are 3 LED light provides clear view when working.