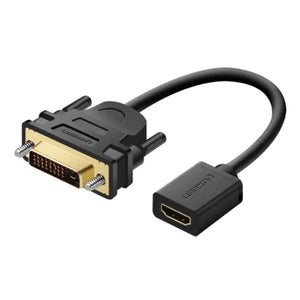 Fully compatible with all HDTV formats. Supports resolution up to 1080p full HD.

Gold-plated connectors that resist corrosion while offering optimum signal transfer.

Supports transfer of uncompressed high-definition video;

DVI does not support audio output, so audio will need to be transmitted through a separate audio cable.

Triple shielding and gold-plated connectors resist corrosion and offer optimum signal transfer, against electromagnetic interference (EMI) and radio frequency interference (RFI).

24k Gold-Plated Connectors for more insertion and extraction.

Ideal for HDTV, Plasma, DVD, Home Theater.

Cable length: 22cm.